While juggling my regular work as a media person and as a freelance Make-up Artist, I always feel the need to have a load of my make-up and tools with me all the time. This is so I'll be ready just in case I would need to do a make-up gig on weekdays. I used to carry everything on a canvas Caboodles cosmetic shoulder bag which was able to carry everything I need from brushes to palettes, foundations, pencils, compacts, etc. But it was such a huge pain in my arm and back having to carry it around since it was just a shoulder/hand bag. Hence, I hunted down a lightweight cosmetic bag with a strap and can be carried across my body. And look at what I found the other night at Muji in Bonifacio High Street...
Here are photos of the empty bag.
And below are pics of how I stuffed my make-up and tools inside...
Contracts, brochures, manuals and business cards on the inside pocket of the cover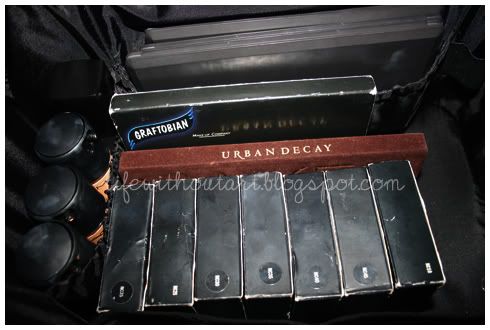 Liquid foundations and -primer on one side, palettes and compacts in the middle
Cleaners, sprays, setting powders, primers, mascaras on the other side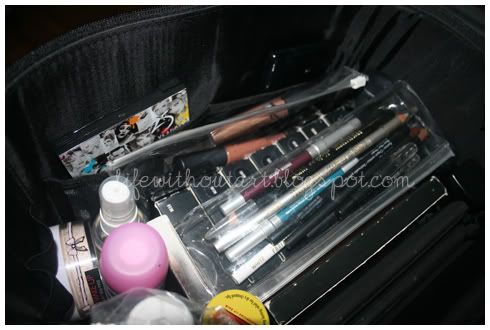 and some more palettes, pencils, browsets, brow powders, lip balm, etc.
It could even fit my airbrush kit on top
The only lowdown is that I do not have space for my brushroll anymore. It was either I stuff the airbrush kit or or the brush roll. As such, the brushroll went inside my normal "work bag". Also, the mini brush pouch it came with was darn useless for me as it only had about 5 slots for brushes and was actually too short for my MAC face brushes so I just tossed it out. :)
But all in all, I'm happy with this make-up bag. Despite the amount of make-up and tools I stuffed inside it, it was still not as heavy as I expected it to be which was just great for an everyday beauty arsenal!