When I was in make-up school, our teacher mentioned Make Up For Ever's contour and highlight powder (Sculpting Kit) as one of the best. Hence, I told myself to get a hold of it when I have the chance to drop by their store at Bonifacio High Street.
Make Up For Ever Sculpting Kit is available in 4 shades, and when I asked Angie, their Sales Manager which would be best for Filipina/Asian skin, she told me it was Shade No. 02. According to her it was the shade they use the most in their store and studio. I was initially thinking of getting the darkest one, No. 04 but when I swatched it and compared against 02, shade 04 appeared too dark and a bit red. Indeed shade 02 looked much better on the back of my hand. Hence, I just took Angie's recommendation and got shade 02.
I actually love the fact that both the contour and highlight powders of the Sculpting Kit felt quite creamy and easily blendable. The color is also buildable so you can actually use it among a wide range of skin shades.
Below are some product shots and swatches of Make Up For Ever's Sculpting Kit No. 2:
Box (front)
Box (back)
Case (front)
Case (back)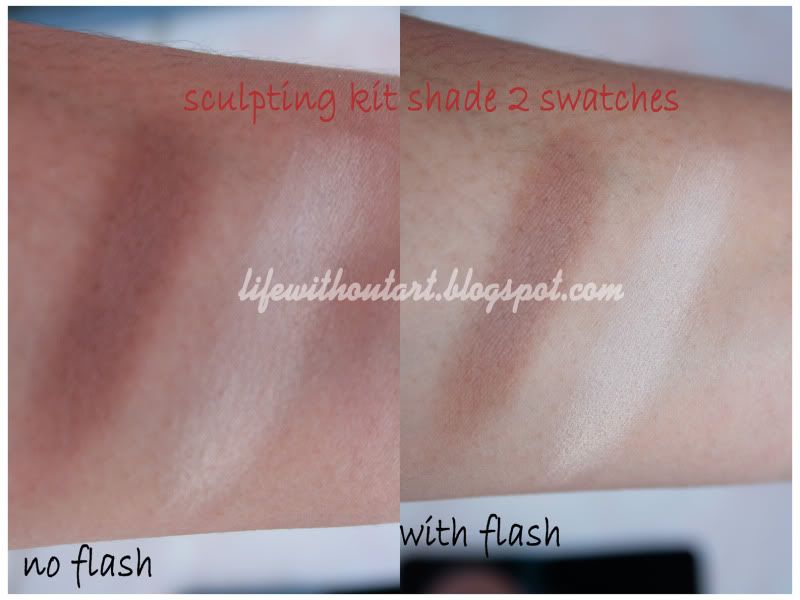 swatches
Note that for the swatches, I swiped the product about 3-4 times to ensure that they appear on the photo.
Make Up For Ever Sculpting Kit is sold for Php 2,200 and is available at Make Up For Ever Bonifacio High Street and Shangri-La Mall.